Along with its product offer, Sagemcom proposes a set of tools and solutions to help operators to manage their deployed fleet of devices. The targeted products are the audio/video devices powered by Sagemcom middleware or by Android TV.
The services offered are based on several components. In addition to the hardware devices (set-top boxes and sound products), Sagemcom offers a portable Agent, that can be integrated with the middleware of the product and that will allow the operator to monitor and control it. The data collected are pushed in the Cloud, to be processed by a Cloud Platform provided by Sagemcom for data collection and analysis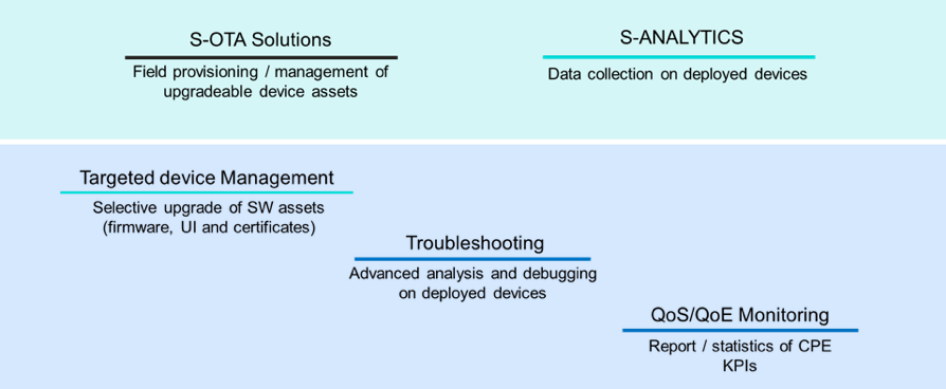 The services offered include:
SOTA, an Over The Air software upgrade service of operator deployed fleet, that allows selective, repetitive or general upgrade of the devices, with statistics/analytics of successful execution.
Video QoS/QoE measurement, relying on collection, report and analysis of selected video parameters to monitor both the service level and the customer satisfaction and to allow operator to take preventive or corrective actions to guarantee optimal Video service delivery.

Effective content consumption statistics and reports, per device.
Collections of device parameters, such as CPU load, memory use, I/O use and status, temperature, Flash integrity… to monitor the product fleet and allow preventive and corrective maintenance, with more efficiency thanks to reported data.