What is NB-IoT?
NB-IoT technology
NB-IoT is a network protocol that belongs to the LPWAN family (Low-Power Wide-Area Network). NB-IoT solutions are supported by mobile phone network operators that use their 4G and 5G voice and data networks to provide devices requiring little bandwidth, with an economical connection, good radio range and low energy consumption.
Using the frequency bands below 1 GHz optimises the penetration of the waves into basements, where meters are usually installed.
In this respect, NB-IoT offers a good technical compromise for reading water meters that:
Sometimes have to function for more than 15 years, using only the energy supplied by a single battery that cannot be replaced.


Only transmit a few dozen items of data every day.


Must be capable of sending certain alarms as quickly as possible.
This sharing of radio resources by specialised operators helps to optimise capital outlay and network maintenance costs.
Why opt for NB-IoT? And under which circumstances?
As the NB-IoT solution is deployed by specialised operators, water utilities do not have to invest in the metering data collection infrastructure.
The development of this network is delegated to a third party that:
Acquires the frequency bands.


Builds the network (selects the radio sites, etc.).


Maintains the equipment.
The initial investment is offset by the payment of rental fees by the water utility to the telecommunications operator for the use of their network throughout the working life of the meters.
What is Sagemcom's solution?
Sagemcom offers its Siconia® range of water meters, suited to the different types of connections and flow rates. We paid close attention to the design of the built-in antenna, which achieves optimal performance in the 8 and 20 bands. Depending on the user profiles selected, the Power-Saving Mode (PSM) enables meter lifetimes of 15 years and more. The Siconia® water meters communicate using the standard Internet protocols (TCP or UDP) and metering protocols (OMS/EN13757 and DLMS/COSEM).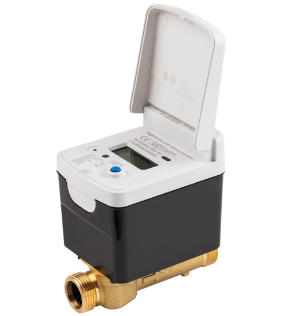 Siconia WM-NB